the cross-organizational model
Cross-organizational Communities of Practice in Design Studies: enhancing creativity, collaboration and pre-professional identities in Higher Education.
Supervising committee members: Dr. Andri Ioannou, Dr. Fernando Loizides, Dr. Agni Stylianou
Examination committee members: Dr. Vanessa Paz Dennen, Dr. Linda Castañeda, Dr. Andri Ioannou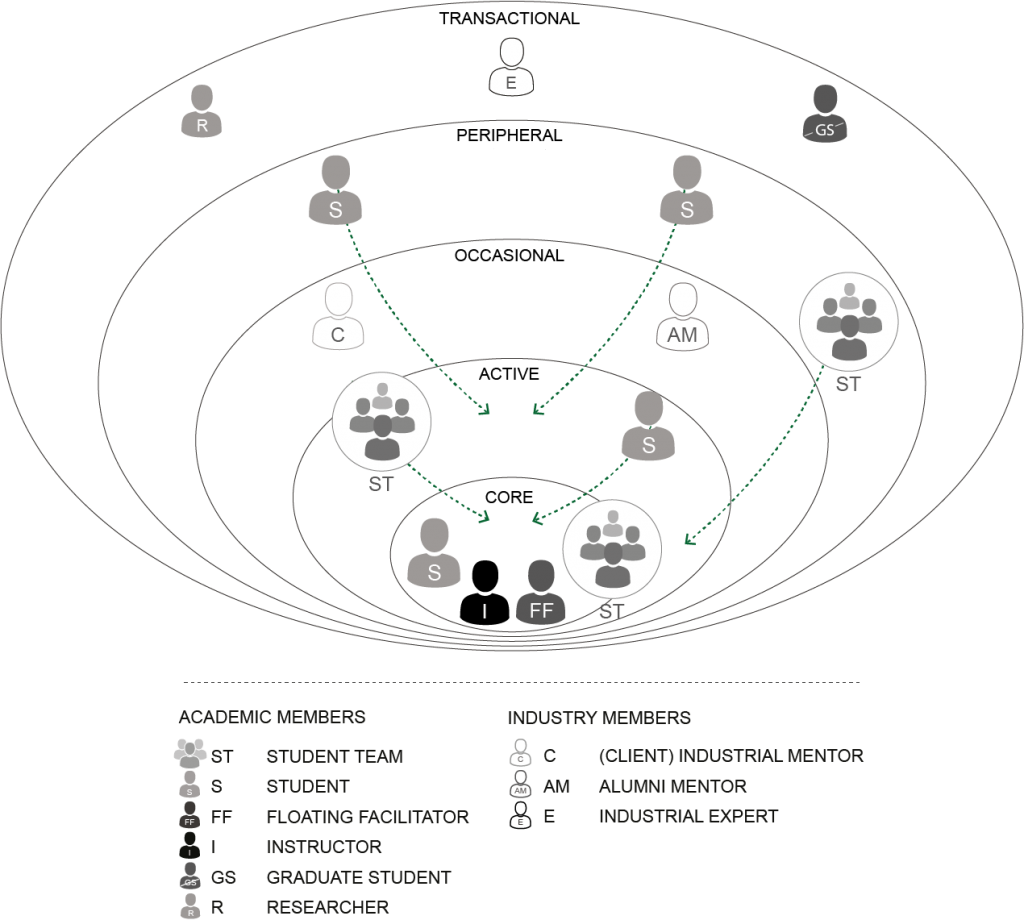 Figure 1. CoP social structure
Cross-organizational CoP social structure
and suggested levels of participation.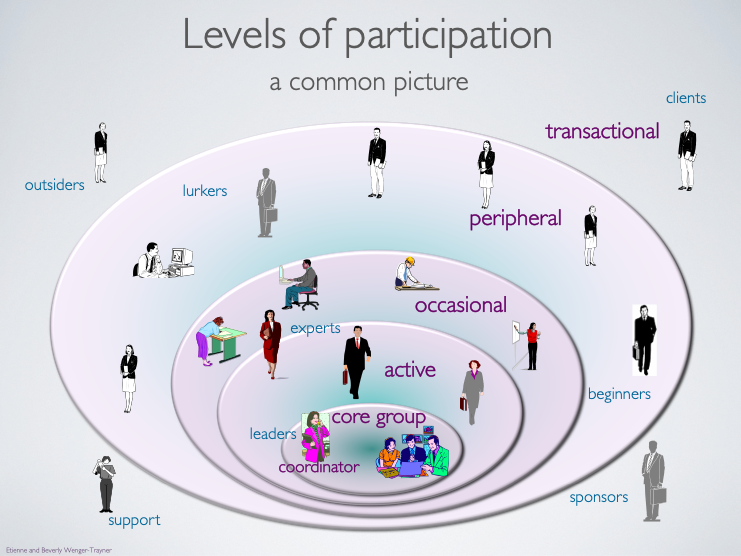 Figure 2. CoP's roles & levels of participation
Typical categories of membership and participation based on the original model by Wenger-Trayner, 2011
The purpose of my doctoral dissertation was to investigate the role and impact of cross-organizational (industry-academia) Communities of Practice (CoPs) on learning in Higher Education (HE) Design studies. CoPs are groups of people who share a common interest in an area of 'endeavour' and connect to co-create knowledge through practice (Wenger, 1998). A model of the CoP's social structure is presented in figure 1 (based on Wenger-Trayer's model presented in figure 2).

The dissertation was motivated by the current gap between academia and industry, regarding the actual – versus the anticipated – knowledge, skills (communication, collaboration, creativity) and personae (vocational relevance) of graduates who transition into the digital creative industries today. This originates from the graduates' lack of authentic experiences with real-life practice, as well as from universities' limitation to keep up with the fast-paced industry developments.
My research proposes that robust academia-industry collaborations can enhance academic programs towards bridging this gap. It demonstrates the effective convergence of creativity, collaboration, and authenticity in education through cross-organizational CoPs, by bringing together academic and industrial stakeholders in a technology-supported and curriculum-integrated practice. Following a mixed-methods approach, it captured a diverse body of data to understand and explain the designed and emergent learning phenomena.
Findings from this work denoted high member participation levels, made evident in the abundant online and offline CoP exchanges. They also inferred significantly higher epistemic and creative outcomes for CoP-participating – versus non-participating – students. The substantial shift in learner perspectives and perceptions of achievement signified an identity transformation, from the academic toward the pre-professional statuses, induced by the broader membership and context of the CoP. According to Jackson (2016) a pre-professional identity entails:
"An understanding of and connection with the skills, qualities, conduct, culture and ideology of a student's intended profession"

Jackson (2016)
The body of this research empirically demonstrated and validated the critical interlocking of the technological, epistemic and social designs that constitute an appropriate learning ecology for the complex practices of cross-organizational CoPs in HE Design studies. It also provided a structured set of actionable guidelines to assist researchers and practitioners in the adoption of this CoP model, in an aim to enhance learning in the Design disciplines.
As such, this work responds to the current call in the literature that warrants governance mechanisms to target specific types of CoPs – such as cross-organizational, which are integrated within particular epistemic fields – such as the Design and adjacent disciplines, guided by specific purposes – such as soft skills development, creative outcomes, vocational relevance, and pre-professional identity formation. The research presents its outcomes on the cross-organizational CoP model in three levels of detail: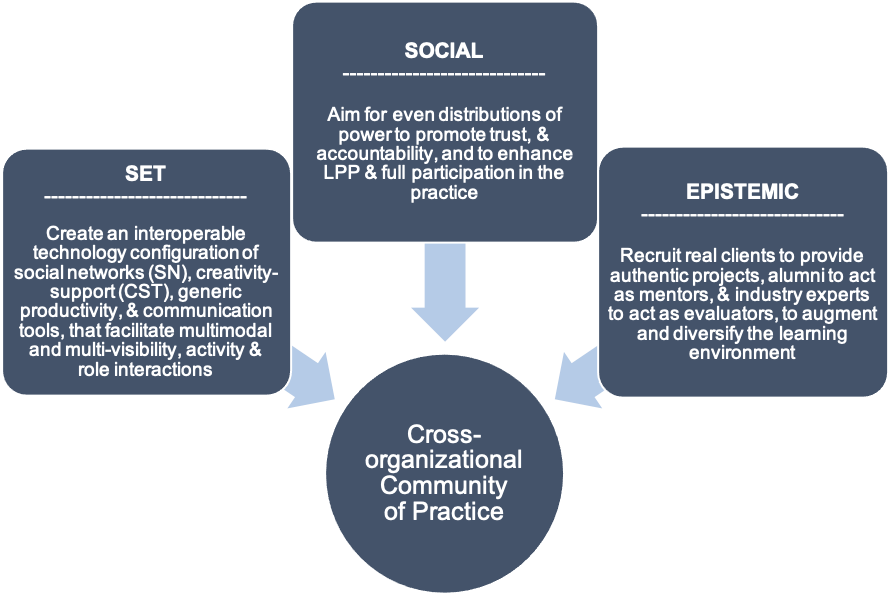 A top-level diagram of the three key guideline sets, these being the Set (technology configuration), the Social (social interactions), and the Epistemic (design of learning activities) components, guided by the Activity Centered Analysis and Design (ACAD) framework (Carvalho & Goodyear, 2014).
Level 2:

actionable guidelines by component & theme
A table for each component, namely the SET (digital), Social, and Epistemic components and their respective guidelines, listed under specific thematic categories, as these emerged during the analysis stage, to help CoP admins better understand their meaning and purpose within a learning context.
Level 3:

extended model: findings, guidelines, bibliography, instruction, evaluation
A table for each component, containing the work's thematic findings and respective guidelines, related bibliographic evidence, instructional interventions, together with appropriate evaluation measures that can be employed in a cross-organizational CoP-based learning ecology. This provides solid guidance and serves as a supportive knowledge-base for the integration of the model in various learning environments.
References:
Jackson, D. (2016). Re-conceptualising graduate employability: The importance of pre-professional identity. Higher Education Research & Development, 35(5), 925–939. https://doi.org/10.1080/07294360.2016.1139551
Wenger, E. (1998). Communities of Practice: Learning, Meaning, and Identity. Cambridge University Press.