Welcome!
I am a full-time member of the special teaching staff at the Department of Multimedia and Graphic Arts and a researcher at the Cyprus Interaction Lab, at the Cyprus University of Technology. I hold a BA in Visual Communication Design, an MA in Design for Interactive Media – both from Middlesex University (UK) – and a PhD in technology-enhanced learning from the department of Multimedia and Graphic Arts of the Cyprus University of Technology (CUT). My doctoral dissertation, titled "Cross-organizational Communities Of Practice In Design Studies: Enhancing Creativity, Collaboration And Pre-professional Identities In Higher Education", concerns the design, enactment, and evaluation of cross-organizational (industry-academia) communities of practice (CoPs), integrated into higher education Design studies, in an aim to cultivate skills such as creativity, communication, and collaboration, as well as the development of real-world practice relevance, and pre-professional graduate identities.
Before joining CUT, I worked as an interactive designer and project manager for several years in the web development industry. This relates to my current teaching activities at CUT which focus on web design and development (under and postgraduate levels), digital design, user experience design, inclusive design, and project management for multimedia projects.

My research interests and future goals focus on the design, implementation, and evaluation of technologically-supported social learning models, such as cross-organizational CoPs, to enable effective university-industry collaborations to enhance learning outcomes and help form critical 21st-century skills. I also aim to test and validate the cross-organizational CoP model (as part of my PhD work) in various Design disciplines and to also investigate its potential in multidisciplinary and cross-cultural contexts.
Guided by my industry background, I have also developed and published work on the design and assessment of digital interfaces, such as semi-structured document triage interfaces, concentrating on the visual properties,layout and structure, and interactive behavior within text-heavy environments (i.e. digital libraries).
I currently participate in the Assessmake 21 research project, which concerns "innovative digital solutions to assess 21st-century skills in makerspaces: schools & non-formal" under the Erasmus+ KA2 funding programme and in the COST action CA15221 [WeReLaTe] which addresses the challenges of creating effective models towards cohesive teaching, learning, research and writing development.

publications
This section outlines research on social learning and user interface design and evaluation, which has been published in peer-reviewed journals and conference proceedings books.

teaching
This section includes a list of the autonomous teaching modules as a member of the special teaching staff at the Department of Multimedia and Graphic Arts at the Cyrus University of Technology.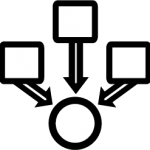 the model
This section presents an integrable cross-organizational (university-industry) Communities of Practice (CoPs) model in higher education curricula, with an aim to cultivate 21st-century skills.